It's the last day of 2013 and what an extraordinary year it has been for us.
I am immensely happy I got reacquainted with Wallace. We have been friends since we were 19 years old in NS. We kept in touch over the years but were never in the same city after we ORD. Wallace had proceeded to study and work in London, while I was working in Greater China. Both of us recently returned to Singapore permanently and still kept in close contact with frequent gatherings.
The blessing that came with keeping in touch with an old buddy is the birth of the Study Room. I remember vividly the night we arranged to meet for dinner at Adam Road hawker centre in June. Wallace shared his joy of being a first-time dad; I was telling him how I recently got very involved with my nephew and niece's schoolwork and was enjoying the process tremendously,
And then it struck us.
We love children so much and it would be such fun if the two of us could work on a project together like the good, old times on something we had passion on. Wallace was a dork when it comes to Maths and Science- there's a reason why he majored in Management Science and Engineering at Stanford. And I could assist students with languages since I have been a journalist for the past decade. And that's how the concept of helping students online started.
You would be amused by the name for the Facebook page we initially came up with. We were contemplating with "Scholar's studio" (which sounded so nerdy), Learning Edge (which was similar to the names of every other condominium on River Valley) and so on. But they didn't correctly reflect what we stand for.
Then we thought of Study Room. Back in my school days, I could never revise my school work at home because there were so many distractions. I was always so tempted to sleep on my bed, watch TV or play computer games. So I would head to the study room at a community centre or school to revise with my friends. Those were great memories— a group of good friends striving to improve ourselves together and working hard as a team.
This was exactly our vision for the Study Room- we wanted to be able to help students achieve their goals, prepare them for life and have fun at the same time.
The Facebook page was an instant hit. We had new likes surging every day and had academic questions from parents and students daily. Then it even escalated to personal questions- we had parents asking us for advice on which schools to choose for their children and students messaging us to seek comfort after scoring badly at the PSLE.The New Paper even found out about us and requested for an interview!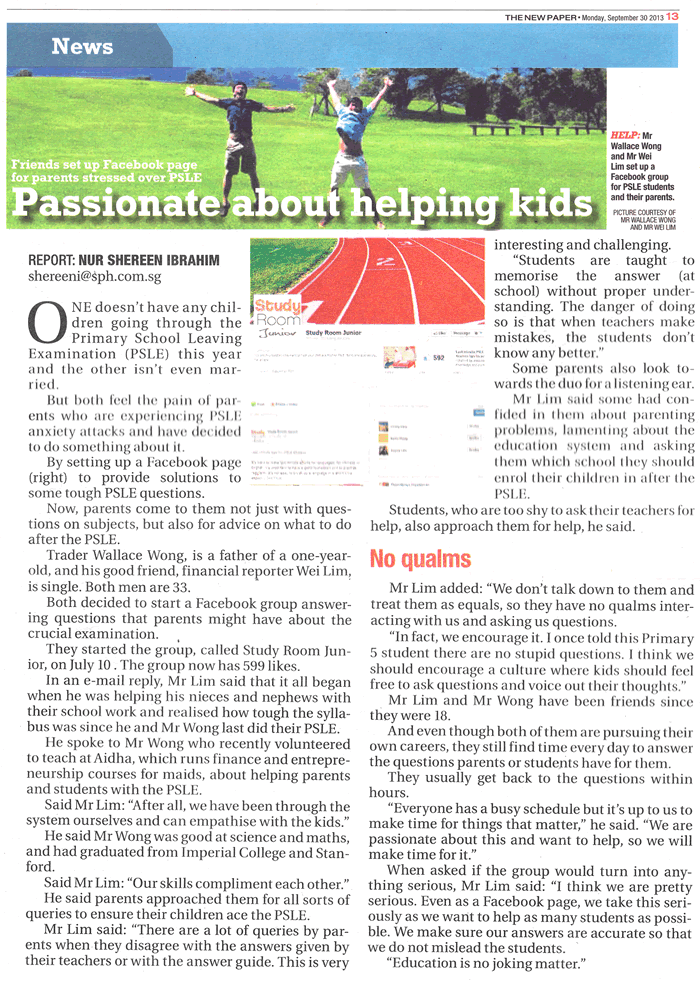 We knew we hit a right spot and loved what we were doing. As the requests increased, we pondered if helping students online was good enough. Yes, we can provide tips daily but it wouldn't be sufficient to help a student improve his grades from a C to an A. So, we decided to start classes.
In the new year, we hope the Study Room can continue to help students online and offline. It's a major step we took and we hope we can make a difference. Classes commence in less than two weeks' time and we are super excited. We were students before and know how frustrating learning can sometimes be. We want students to love what they are studying because only when you enjoy your work will you attain your full potential.
Lastly, we will also want to thank you for your support the past year. Without you guys, we wouldn't have gone as far. Here's a happy new year to all of you. Great health and may all your wishes come true.
Wallace & Wei